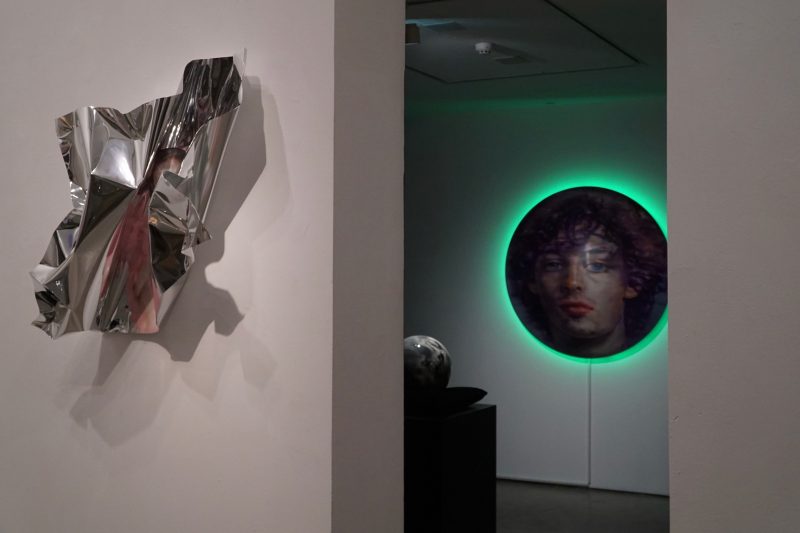 Martin C. Herbst | Hidden Treasures
Opening Reception: Thursday, January 18, 2018, 20:00
Curator: Yaron Haramati
First exhibition in Israel for the Austrian artist Martin C. Herbst . The show will include two series: Spheres, which made its international breakthrough at Art Basel Miami Beach in 2007, and Hidden Treasures.
Spheres consist of mirror-polished stainless-steel sculptures. Half of the sculpture remains bare metal; a convex mirror displaying fascinating reflections of the surrounding space. The other half reflects an oil painting painted directly on the stainless-steel itself.  The paintings are of expressive figurative subjects. In this strikingly natural symbiosis, painting factually and virtually conquers the 3rd dimension, fluctuating and offering multiple points of view. Resting simply on the floor without a base, the spheres can be turned in any direction. The faces painted upon them can be looked at from a variety of perspectives, whereby their expressions seem to change according to the beholder's standpoint.
In Herbst's Hidden Treasures series, the painted image is sometimes only visible in its reflection. This series forces the beholder to view the faces primarily in the reflections created by the complex deformations and folds of the aluminium upon which they are painted. On account of the bends and irregularities of the mirrored surface, they appear distorted and animated. The physicality of the painted surface becomes immaterial, enabling the normally static and unchanging medium of painting to advance into a mutable, dynamic dimension. In a reflection on Vermeer, the curves and bends of the support also open up unexpected perspectives. There is only a single standpoint from which the famous face of the Girl with the Pearl Earring is "right". When the beholder moves, it begins to stretch, condense or dissolve.
Almost obsessively, the painter has devoted his attention over the last decades to the human image. His work demonstrates an innovative and unconventional approach to the portrait and to painting in general, which the artist liberates from its bondage to the two-dimensional surface, conquering the third dimension.
Herbst has shown in galleries all over the world. His work is in many permanent collections, such as Modern Art Museum, Istanbul; Eileen S. Kaminsky Foundation, Jersey City; Marc LeBaron collection, Lincoln; and more.