Piet Van Den Boog | The Alchemist
Curator: Yaron Haramati
"Alchemy is a kind of philosophy: a kind of thinking that leads to a way of understanding." Marcel Duchamp
For his first solo show in Israel, van den Boog pushes the limits of portraiture by directly confronting emotion head-on by way of large-scale paintings. New ways of seeing, generated through a personal process, have always rewarded the viewer with new insights. Dutch painter, Piet Van Den Boog has found a new interpretation of the figure and portrait by way of an alchemic process that promotes effects of chemistry on the picture plane. Influenced by the writings of Sylvia Plath and painters like Jenny Saville, van den Boog's point of departure is a photo reference, which he then enlarges to a monumental size. Oil and acrylic paint make up flesh tones and facial details, while abstract strokes in rust tones are chemically etched into the cold lead surfaces, becoming a powerful metaphor for the internal scars we all possess.
A modern day alchemist, van den Boog's experiments with base metals like lead, copper, steel etc. form a grand visual allegory of personal transmutation and the quest for a cure for the human soul. It is the process that ultimately imbues the portraits with relatable human qualities. The element of technical surrender alludes to the unforeseen consequences of intimacy and the perpetual co-existence of pain and pleasure.
Van den Boog's work is exciting and emotionally rich in that as viewers we participate in his process and feel transformed by it. He benefits from the uncontrollable nature of chemical action by way of accidents, which bring chaos to the organized mind.
Piet van der Boog 'Working with Acid'
---
Interview by i24News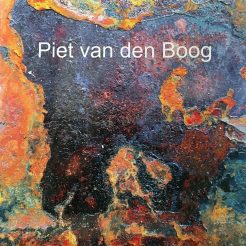 PIET VAN DEN BOOG | THE ALCHEMIST
Nov 2015